Clients often ask us to help find ways to incorporate family photos in their homes. So today, we're showing 3 ways to do this! Our friends at Chatbooks are known for their 6x6 printed photo books, but they will soon be launching individual prints for current subscribers! I'm so excited about this because it's an easy way to display all those pictures that are left on my phone for months.
We're always brainstorming new ways to display personal photos and have 3 fun ones to share today!
Girls Room/Toy prints:
First up is a little girls' room. These prints of calico critters and my little pony crack me up. We used washi tape to make borders and frames around each one creating a little gallery wall above the bed. Mixing the toy prints with some shots of a little girl gave it some life and we imagine any girl would love having these prints displayed in her room.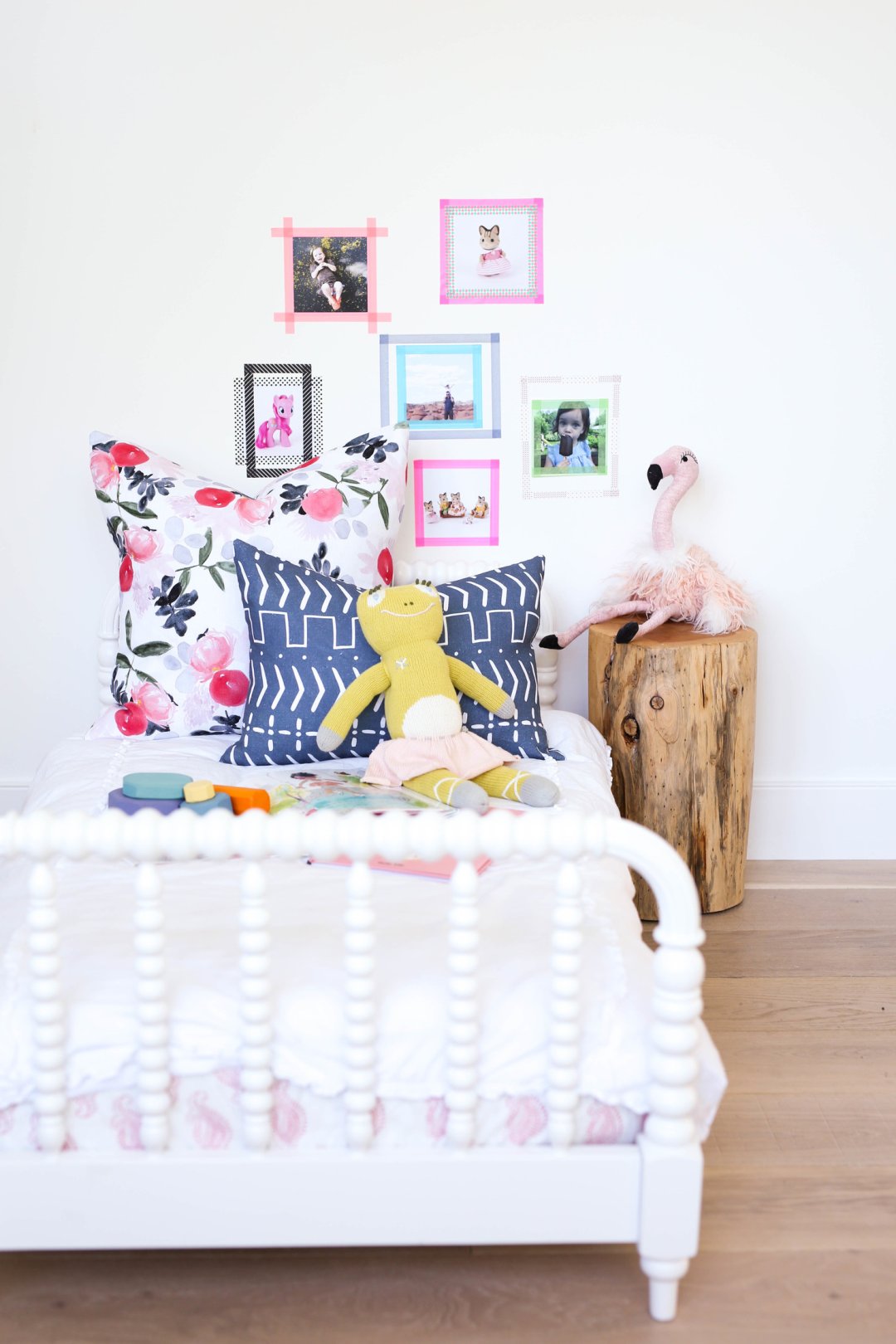 Watercolor Floral Pillow (22x22), Modern Mud Cloth (14x20), Flamingo (similar) , Blocks, Bed, Sheets, Nightstand, Washi Tape, Flora the Flamingo book, I Had a Favorite Dress book
Entry/Family prints:
Next we did a gallery wall above a console. This would also be great in an entry! We love a grid gallery wall. These West Elm gold square frames were used to creat our own matting with 12x12 scrapbook paper. You can create this ombre look with any color. For this gallery we went with navy on the bottom row, a medium blue in the middle, and white on top. We suggest keeping all the prints in the same color way to keep it feeling uniform. Also, black and white photos work really well against the colored mats.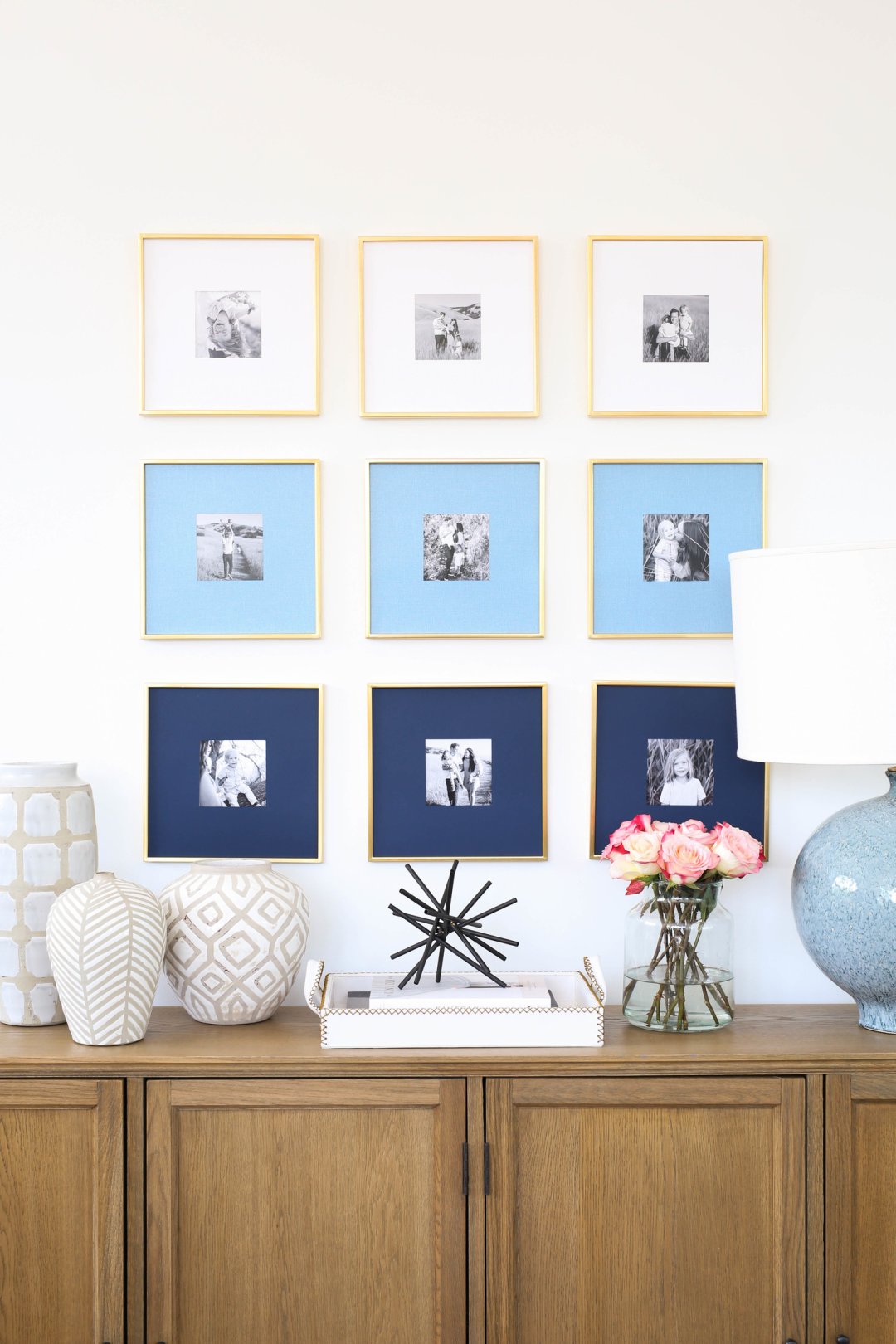 Lamp, 12.5" Square Frames, Tray, Vases 1 2 3, Recycled Glass Vase (small)
Office/Travel prints:
Last we styled an office space! A large linen pin board in an office is the perfect surface to pin your travel prints, maps, little souvenirs, post cards, etc. It creates for a visual that keeps you inspired and one you can change and add to over time. Plus, we have a thing for great desk accessories! You can see some of our favorites here.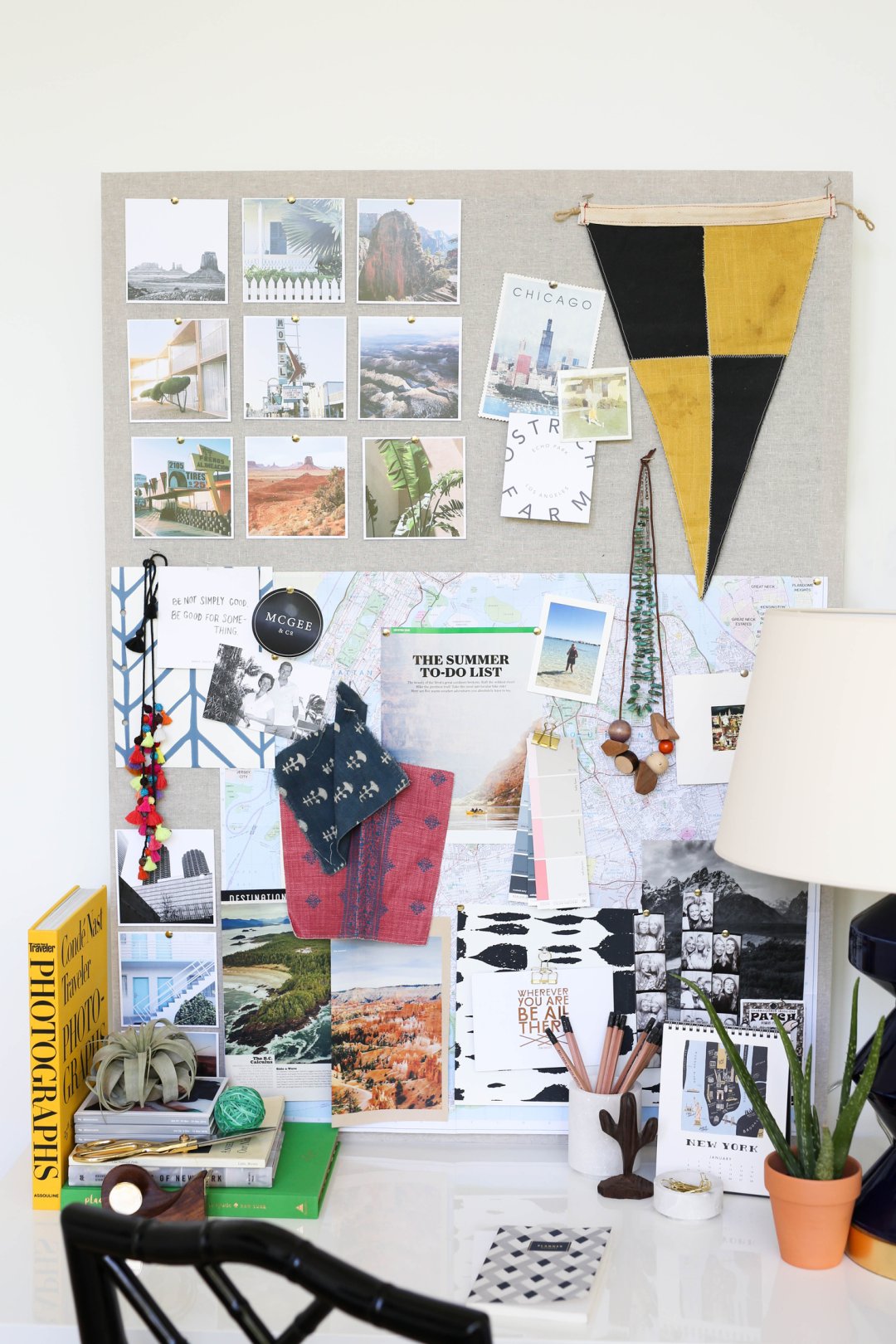 Desk, Lamp, Pin board, Conde Naste Traveler book, Kate Spade book, Humans of New York book, Calendar, Hat, Rubber band ball, Cedar pencils, desk accessories and chair can be ordered through us by emailing hello@studio-mcgee.com.
Chatbooks is now offering bonus prints! You can add on 5 square prints to any Photo Book Series for just $2! Email support@chatbooks.com or visit their instagram for more information!