It might be all the "back to school" signs showing up these days but lately we have desk accessories on the brain! When designing an office we love using accessories to help it feel styled yet still functional. It's amazing what a new wastebasket and pencil holder can do to make your space feel fresh again. Scroll down for a round-up of our favorite accessories to dress up your office!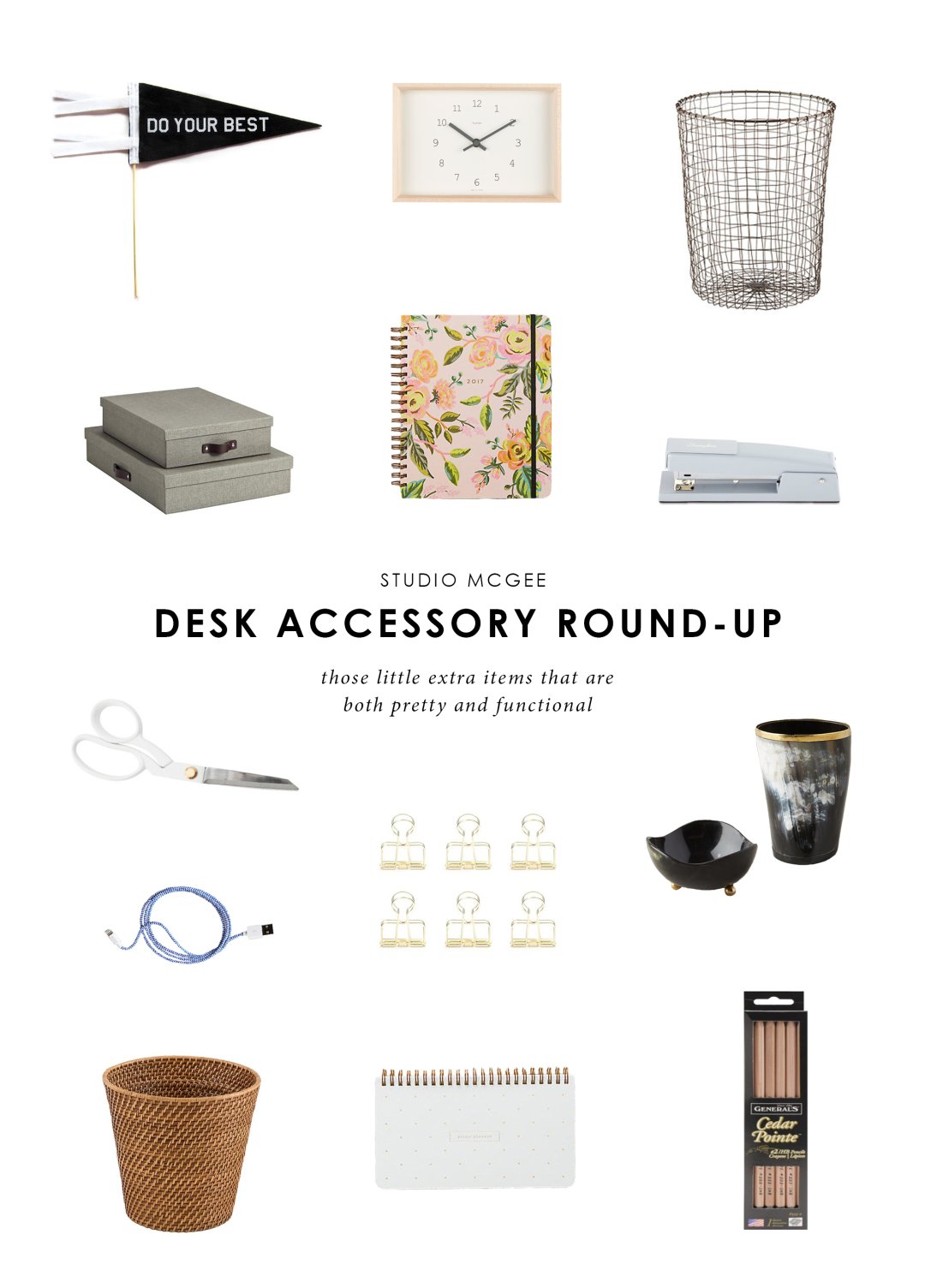 Desk Clock: We used this clock in the office of our Foothill project and we love it's clean modern feel. It's now on sale!
Stapler: Even your stapler can look cool! It's a classic Swingline stapler but the light blue color gives it a fresh update.
Graceful Garden Planner: We love Rifle Paper and this bright bold print!
Wire Wastebaskets: The waste baskets we use in our Studio space. Reminds us of a french market basket.
USB cord: Even your USB cord can be cool and add some style to your desk.
White scissors: White and gold! Of course we love these.
Document Holders: We used these in the office at the Modern Mountain home. The quality is awesome and the leather handle is a great detail!
Petite Planner: Won't take up too much of your desk place but still functional for your daily To Dos!
Horn Desk Accessories: Your pencils and binder clips need a place to go. This horn collection will help your desk feel decluttered and styled.
Cedar Pencils: Keeping pens and pencils that are on display uniform really help clean up the desk space. The rest can go in a drawer.
Gold Binder Clips: Even your most basic office supplies can look cool!
Mini Pennant: Place it in your pencil cup or pin it to your bulletin board and add character to your space. We love the encouraging message.
Rattan Wastebasket: Another great wastebasket option!